DESTIN BEACH 24 HOUR ULTRA
February 14-15, 2015
PREP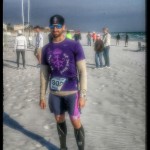 Leading up to the race, I felt like I was at my best since starting ultra running. The summer months after the keys 100 were spent doing light running and weight lifting, so I felt like I was maintaining and not running myself into the ground in the Florida heat. Once the weather cooled off, I resumed long distance running and picked up where I left off. I PR'd in the 50K while running a 36 mile road race, then PR'd again by 30 minutes a few weeks later. With a month between that last race and the Destin 24 Hour, I did all of my long runs on the sand. Having run a 100 mile race, I was well versed in the phenomena of seeing the sun set and rise while running, and the fuel necessary to push forward for 24 hours. I think that this was valuable experience that cannot be understated. I also cut caffeine out of my diet completely a month before the race, something I did during the Keys. A week before the race I went on my last beach run, an easy 9 miles, and took it easy. I ate well, got plenty of rest every night, and made sure I was fresh and without any soreness before race day. Two nights prior, I had a great pasta dinner. The night before the race I ate a salad and small portion of pasta, and stayed up until about 11 PM watching Better Call Saul. Since this was a unique start time of 4PM, I was able to sleep in until about 9, have a breakfast of 2 eggs with spinnage, blueberries, and a bagel with jelly. I then went back to sleep. At around noon, I woke up and headed to the resort where the race briefing was being held at. Having done the other ultra events that the race has to offer, I had heard all of the safety tips and details before, but it was a nice chance to see some new faces and hear about the charity accomplishments that the race aims to benefit each year. The race raises money for the Special Operations Warrior Foundation, a charity that sends children to college who have lost a parent who died while serving their country. After the briefing ended, I got my gear out of the car and took the shuttle down to the beach…
THE RACE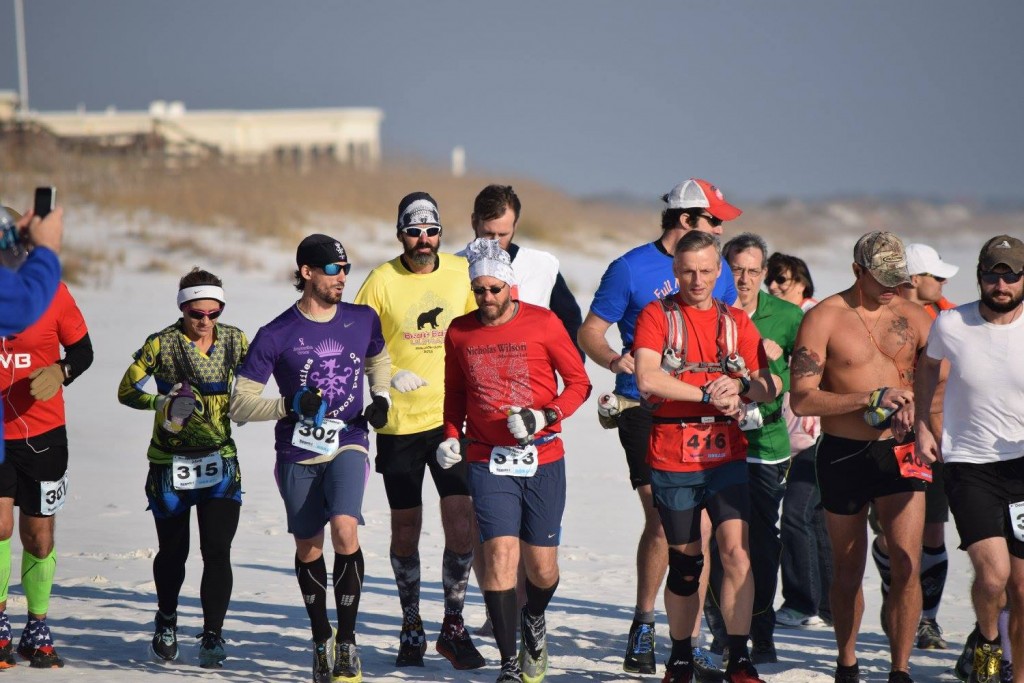 As soon as I stepped off the shuttle, I was greeted by a ferocious gust of wind that didn't stop whatsoever. It just constantly roared, bending the tall palm trees over like they were fragile flowers. I looked back at the shuttle bus driver and we just kind of exchanged looks that said "damn". The warning had been issued: weather was definitely going to play a huge factor in this race, and test all of our will power. Luckily, my friend Dale was providing a tent for us to use as a home base, and my friend Rex brought a folding table to set our gear on top of. This made a world of difference, as the wind made all wardrobe changes very chaotic and I don't even want to think about how that would have done down without any sort of cover. After setting up shop, I walked back up to the lobby of the resort to change into my race gear. The sun was out so despite the wind, I didn't want to over dress and risk getting drenched in sweat before the night came. I started out in the long sleeve Under Armor shirt the race made for this years event, with my Nike jersey over it. I wore gloves, and my Nike Pro Combat skull cap. The material on all of these items of clothing are perfect for keeping warm while not accumulating sweat and leaving you soaked. The compression sleeves on my legs kept the wind from really having any effect on my lower body, and I ended up just wearing those the entire race instead of changing into tights like I had planned. As the start time drew near, all of the runners gathered under a tent to hear some final instructions from our race director, as the wind howled in the background. The wind was so strong, I couldn't even hear the national anthem being played, despite standing about 30 feet from the speakers. With the conclusion of the anthem, it was now show time.
When I signed up for this race, I had a good idea of what I wanted to try and run during the 24 hours. Looking back at my 100 mile result, I was around 78 miles at hour 24. So I figured with cooler conditions, why not try and beat that by a considerable margin. Like I said in the preface of this blog, comparing two ultras is foolish, especially two run on different surfaces. Add in the haunting wind, and it was going to be a huge adjustment to my plan. Either adapt or go down in flames.
Everyone has a plan 'till they get punched in the mouth.
– Mike Tyson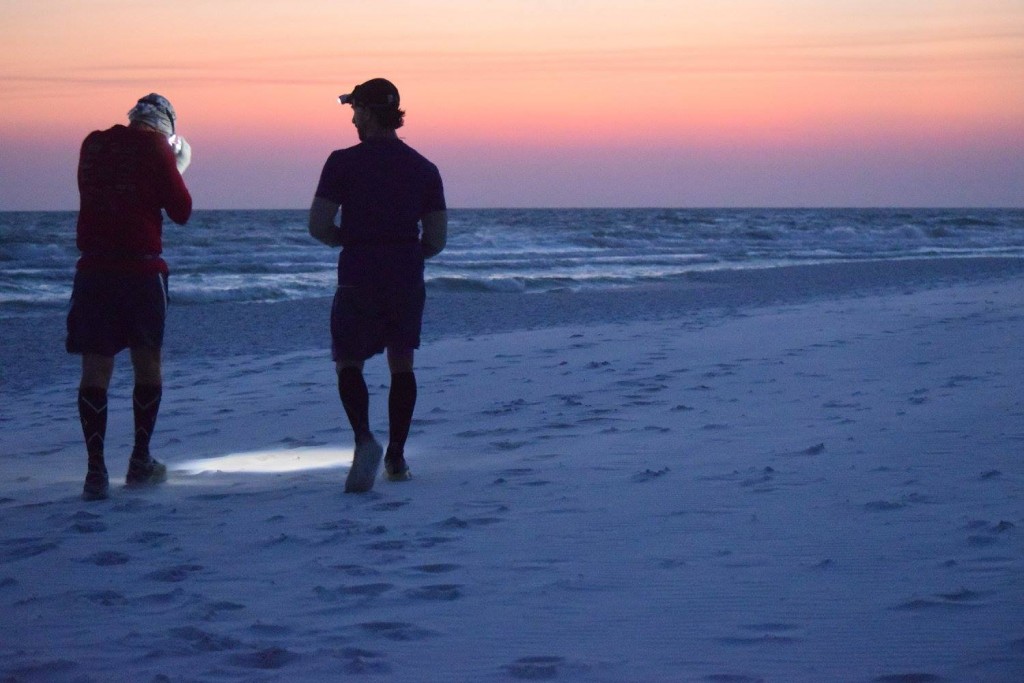 Rex and I brazenly ran the first 16 miles with no walking portions. The course is set up so that you run a mile down the beach, go to a turnaround located about 200 meters from the water, and then head back to the starting line with the electronic check in being about 100 meters from the water. We had planned to run the first marathon, and then alternate between running and walking each mile following that. What happened was we ended up grinding ourselves down by running directly into the headwind on the mile out from the start line. At mile 16, Rex had to drop due to nausea. He would return the next day, and thankfully so, as he would raise me from the dead. I continued on with the plan until mile 20, when I realized the wind was getting even stronger and I was feeling more fatigued than I ever had at a 20 mile point. I immediately switched to walking the mile out and then running back. Amazingly, the wind continued to get worse as the night went on. I put on a loose long sleeved cotton shirt to block the wind and wore that for the next 15 miles. At mile 32, I linked up with my friends Dale and Mary, and we stuck together for the next 20 miles. It was a huge morale boost to be able to converse with friends who were battling the elements, and we really encouraged one another. Dale's wife stayed out there the entire night and it was reassuring to have someone asking if I was ok. Having no crew for this race was intimidating, considering when I did the Keys I had my wife do an amazing job babysitting me and having pretty much every aspect of the race covered for me besides the running. Each time I changed clothes or grabbed food, I had to mentally check off things in my mind to make sure I wasn't forgetting anything (I left my water bottle TWICE when heading out haha). With the wind and darkness, changing socks was a nightmare. I had to wipe my feet totally dry, and the vaseline I was applying caused everything to be a sandy sticky mess. I had brought a portable USB charger to keep my two Ipod Nano's charged the entire 24 hours, which was a blessing because I surely would have been driven mad from that howling wind.
At around mile 40, I switched my long sleeve shirt out for my Nike running jacket, which had a wind breaker hood on it. This helped keep the wind out of my face. I also switched into a fresh pair of gloves, as the other pair had begun to get a bit damp from the sea spray. I put a huge emphasis on staying totally dry during the night, so if that meant skipping out of the way to avoid the waves, so be it. As the sun began to slowly rise, I passed mile 50 and was feeling great. The rising sun was a morale boost to those still out on the course, and as darkness retreated, it took our nemesis along with it…the wind was almost totally gone!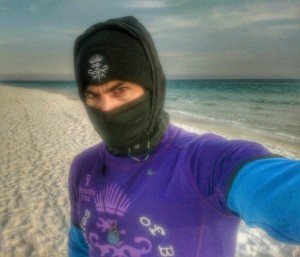 At mile 60 I changed my shoes. I had been wearing Hoka's and my feet were definitely swelling at that point. Putting on my old purple Nike's felt like heaven on my poor feet. I was planning on retiring them for good after this race, so I asked them to carry me home one final time. At this point I was dead set on running 80 miles, which I knew I could get as long as I kept moving forward at my current pace. With the sun now totally risen, I shed my jacket and gloves and pressed on. As I drew close to 70 miles, I felt some serious pain begin to creep into my feet and right knee. I think my compression sleeve was pulled up too far, but whatever it was definitely was beginning to cause me a lot of discomfort. As I set out on mile 71, I felt like I had been defeated. That mile may have very well ended up being close to 30 minutes. I didn't even bother to get out of the waves, letting them rush over my battered feet. The cold water actually seemed to give them a bit of relief. I trudged into the checkpoint, and collapsed on top of a cooler under the tent. Now let me say this; the volunteers and directors for this race are hands down the best in the business. Every time you check in, they are calling you by your first name, telling you your progress, and offering words of encouragement. Every time I needed anything at the turnaround aid station, everyone working there was ready to get me whatever I needed. Well at this point in time, what I needed turned out to be a slice of pizza covered in meat toppings, a few ultra running stories to swap, and a pep talk about how I had hung tough for thus far. I saw Dale and Mary begin to head back, and I hauled myself off the cooler and limped after them.
As I limped into the check in, I glanced at the leader board and saw that I was somehow in 4th place. It was definitely a wake up jolt to my morale, and at that moment I gritted my teeth and vowed to go down in a blaze of glory. I probably looked ridiculous marching down that beach, pumping my arms like some sort of pro wrestler making his way into the ring, but honestly that was the only way I could move one foot in front of the other reliably. It was also at this point where Rex made his return to the race, and not a moment too soon. He and our friend George, who had just finished 3rd in the 50K, walked up besides me and we began to talk about how things were going. I think just being able to walk and have a steady conversation with my friends really took my mind off of how much pain I was in. When we turned around at mile 73, I was feeling tons better. We returned to the check in and six miles and an hour and half were between me and my goal. Rex graciously told me he would stick with me the remainder of the race, and helped me out with refilling my bottle and getting me two ibuprofen. We pressed on the next two miles and had just under an hour to complete the last four miles. Since the beach itself is not a straight line, it made calculations hard to project just how much time we had for each mile. This added a sense of doubt that led to a final hour filled with high drama. Thankfully, our friends Jeremy and Kelly had come down for the end of the race and they helped pace us the final four miles. As we left the check in at mile 77, we knew it was going to be close. Half a mile from the next check in, we began to lightly jog, just to try and put some time in the bank. Each step was agonizing, and I am sure some onlookers were concerned by the grimace etched on my face. We checked in to 78 running, and as we turned back out onto the course, the race director shouted words of encouragement. By that time, all of the 50K runners and most of the 50 mile runners had finished, so there was a large crowd of people at the finish line. Rex and I were now the only 24 Hour runners still on the course, and if we could run these next two miles in less than 30 minutes there was going to be an audience to witness it.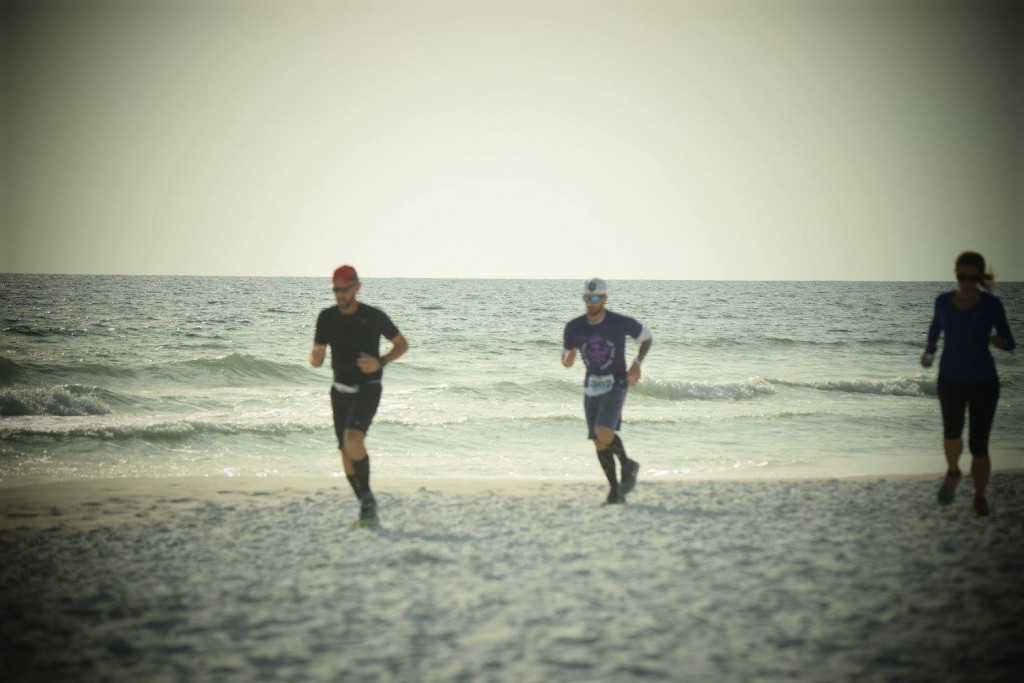 As soon as we made it down onto the hard sand, we were running hard. Our pace for the next half mile was around 9 minute pace, by far the fastest I had ran the entire race. We walked to the check in as the volunteers were packing things up. I don't think they anticipated seeing any runners at this stage of the race. With 79 down, there was 1 mile and about 25 minutes separating me from 80. We ran the middle of the final mile, dodging waves as the tide came in, and children running amok. It seemed as though most of the tourists enjoying the beautiful day at the beach could sense we were making our final assault, and plenty of them cheered or gave thumbs up. Finally, we could see the finish line, with about 10 minutes to spare. I handed my water bottle to Jeremy and looked at Rex and nodded, our journey at its merciful end. We took off like we were shot out of a cannon, and I crossed the finish line in a full speed sprint, ducking my head as I crossed the line like I was back at FSU running track. "80 miles!!!!" cried the race director and I let out a roar. 24 Hours. Joy and Pain. Body and Blood. Utterly defeated and then rising up from the ashes like the Phoenix emblazoned on all of my gear.
I shook hands with everyone in sight, and as I limped off the beach I was felt one final emotion: peace.
– Chris "Nole'Core" Caravello
…And At The Battles End, She Is Great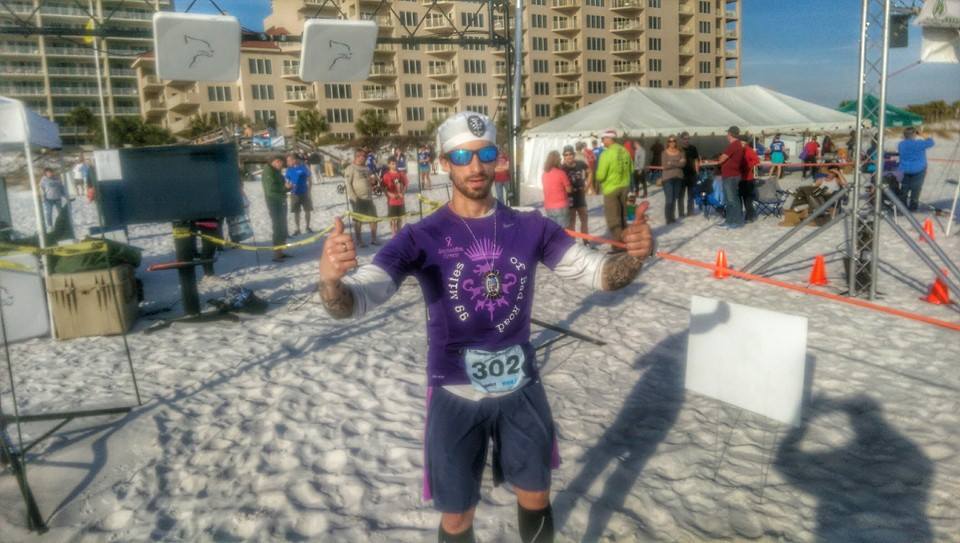 Destin 24 Hour Ultra | Running the Beach 24 Hours | Gear | Nutrition