THE KEYS 100 
May 17-18, 2014
PREP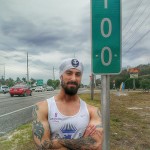 100 Miles. Just saying that out loud inspires a lot of varying emotions. The one that shines through past the fear, awe, and nervousness, is the achievement that one would accomplish if they were fortunate enough to see the finish line on this sacred distance of ultra running. When I decided to attempt this race, I only told one person, the person who inspired me to do it in the first place: my wife, Samantha. At the time, she was battling cancer. Hodgkins Lymphoma at age 26. I had done 2 shorter ultra marathons earlier in the year, the Destin 50K and Bear Bait 50K, and each race I dedicated to her and used the knowledge of what she was going through during chemotherapy to press on to the finish line. Since the Keys 100 raises money towards cancer research and free cancer screenings, I decided this was a worthy challenge that would be a way to honor a struggle that I would never truly understand as a healthy cancer-free person. We talked it over and we both decided I would be ready for this race. I signed up about 2 month before the race and laid out my final preparations.
Doing shorter ultra marathons as your "long runs" to prepare for a 100 miler seemed to be a good strategy leading up to this. The two that I had done in February and March were very diverse courses that presented some difficult challenges. Like the 50 mile race I had done in 2013, the Destin 50K is run entirely on the white sand beaches of the Emerald Coast. I was coming off hernia surgery in December, so being able to finish the 50K feeling good was a huge deal to me. Next up was the Bear Bait 50K, a trail ultra ran around a lake near Baker, Florida. Heavy thunderstorms and a torrential downpour that lasted literally until 15 minutes prior to the start time meant I was doing the entire race underwater, while trudging through mud, roots, and washed out foot paths. Needless to say, after these two ultras, a long race on flat roads was welcomed. My last long run was exactly 3 weeks prior to the Keys and it was the perfect set up. Across the country in April, the Relay For Life holds its all night walks for cancer awareness. With that cause in mind, and a chance to run through the entire night, it was a great way to mimic what I would be going through in the Keys. I ended up running 38 miles from sundown to sunup, and was able to test every piece of gear I planned on wearing or using for the Keys 100. To properly prepare for a 100 mile race, you NEED to be ready to start with the sun up, see it fade into darkness, and be able to run until the sun returns. And beyond.
Also, keep in mind that I do 90% of my running on roads. Which is not the norm for an ultra marathoner but that is for the most part what the Keys 100 is run on. I heard several people that were struggling or did not finish complain that they did not train on asphalt enough and that the trail running they were accustomed to did not strengthen their legs and feet for what the Keys was going to do to them.
THE RACE
I took two days to get down to Key Largo. No rush, and I stopped at my cousins house in Tampa. I rarely sleep soundly the night before a race, so getting a comfortable bed and goods night sleep 2 nights prior was huge. When we got to Key Largo, we had plenty of time to check in, unload the car, and get over to the race briefing. Nothing was rushed, we tried to make sure there was no stress at all leading up to the race. After dinner, the next few hours were spent packing gear and supplies into the car, so we both would know exactly where everything I would need was located. I woke up two hours before my race time, which gave me time to eat a plain waffle and drink some water and get my gear on that I would be starting out in. We got to the starting line about 25 minutes before the race. All of the teams and elite runners had already left, so it was just the last three heats. I was in heat 5, so I was able to see everyone else leave and take in the process. Some people looked battle hardened and ready to roll, others looked nervous. I guess I might have looked somewhere in between. I was pretty calm and tried to make small talk with my wife and a few other runners standing nearby. I was wearing a long sleeve FSU track shirt and some guy made a Jameis Winston crab-gate joke. It was a pretty good ice breaker. Since I am relatively new to ultra running, I ditch the stone cold persona I have during 5ks or sprint races and just try to enjoy the moment and start the race with a smile on my face. The sky was overcast and it was over 20mph winds so I think that was on the forefront of everyone's minds as we waited our turn to start the race. This race is notorious for its hot conditions, so this weather was going to play an enormous part in getting through Day 1 for a lot of runners, myself included.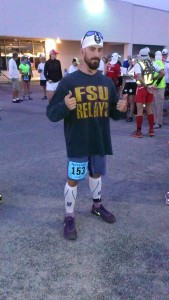 About a minute before starting, I handed my wife the long sleeve shirt. The air was cool, even a bit chilly since I was wearing a singlet, but I knew I would warm up after a few miles and didn't want to bother with shedding layers so early in the race. When the horn sounded and we left the corral, I settled in to my pace. I was near dead last after a mile but I didn't care. Going out too fast in a race of this distance would be deadly for me, and I refused to get caught up in the pack that I began the race with. When I was learning about this course and looking at the map, I was surprised to see that we would run in the median for the first part of the race. I was thinking it would be just the grassy middle of some two lane highway. I was totally wrong, the median is actually huge and has a lot of trees separating you from the other side of the highway. The path you are running on is a mixture of concrete, packed dirt, and some parts involving broken up ground. You can always just hug the shoulder of the road and then step back onto the path when a car comes, if you want. I chose to run in the grass as much as possible, the less you are on the concrete or road, the better.
Around mile 15 is when you finally start to see the course you probably envisioned when you signed up for this race. Snake Creek Bridge takes you onto the key of Islamorada and the land thins out and you start to see more water. As I went over this bridge, I looked down and saw a huge nurse shark make a meal out of a passing fish. It was something off of National Geographic and definitely got me fired up. It was starting to heat up and the sun was out, so this is when we implemented our plan of meeting up every 2 or 3 miles. We would stick to this the rest of the race. While the sun was out, almost every time I saw my wife she put SPF 100 sun screen spray on me while I was drinking my water. I finished the race with zero sun burns, including my lips which I protected with chapstick containing SPF 100. Do not underestimate the sun, even when you have a cool breeze it is still beaming down on you and you need to keep applying sunscreen. Take special care to not get any in your mouth or eyes while you are trying to eat or drink.
Mile 25 was our first check in and I was 30 minutes ahead of where I wanted to be, at 6:05. I wasn't running against the clock, but it was important to just be conscious of where you were at in terms of being able to finish the race in time. It was really hot by that time so I started to do a bit more speed walking at the beginning of my miles. I also started to use some bandanas I had made, they were folded over into triangles and sewn on one side. The other side had velcro so that my wife could put bags of ice inside and then velcro them shut. This cooling system worked perfectly, especially with the winds we still had. Every time I saw my wife to switch out the ice bag, I was cooled down instantly.
Once you pass Mile 30, you start island hopping pretty frequently. The bridges get longer, and you have your first major bridge in terms of height. I walked the steep parts of these, and with the winds being over 20mph it was whipping me around at the highest points. Wear glasses to avoid getting any particles in your eyes. The next 10 miles as you near Marathon are mostly bridge, and you will be on the pedestrian versions of them so no worries about traffic. Just fisherman so try not to get hooked. The first part of Marathon, was actually pretty terrible. You are put on a narrow path with trees close on both sides. Be sure to put on bug spray before you head in, the foliage is filled with insects. The breeze doesn't seem to reach you, and the sun somehow beats down right above so the trees don't even offer shade. This was really my only uncomfortable part of the race until the very end. After you emerge from the path, you begin to head into Marathon city. Its pretty much any town USA, which may throw you off. At least there are plenty of places for bathroom stops in fast food joints and places like that. I arrived at Mile 50 about 18 minutes behind where I wanted to be, at 13:18. I felt fine though, so no reasons for concern. The sun was beginning to go down so I needed to not only refuel, but had to get all of my night gear on as well. I changed into a new pair of shorts, but forgot to change the bib from the old pair to the new pair. I barely remembered in time as I began to leave the aid station. The rest of Marathon was just a sidewalk through town. I had never before gone over 50 miles, so it was a good mental checkpoint for me to overcome.
I arrived at the 7 mile long bridge and by this time the wind was howling again. I could barely hear Samantha as we got myself ready to go over. The wind and darkness at the beginning of the bridge caused some confusion, and you need to be very aware of the course at this point. Someone made the mistake of going onto the pedestrian bridge that is built beside the bridge the cars go over…and had to turn around after two miles because the bridge suddenly gave out. He is lucky he didn't run straight off into the ocean given that it is pitch black. He added four miles onto his race, which is unfortunate since he was running near me for most of the race. I put on a long sleeve dri-fit shirt and filled both water bottles, one with some hydration drink made by Gu. I ended up drinking a full bottle and about half of the other, so it is wise to bring everything available that you have. Had this been during the middle of a hot day, I would have worn my utility belt with two additional bottles attached to it as well. The bridge just seemed to go on forever, with various rises and falls. I could see the police lights that were at the end, but since it was pitch black it just seemed like they were flashing in the middle of nowhere. Cars were flying by but because I had my vest and headlamp on, they saw me with plenty of room and I never once felt like I was going to be run over. After what seemed like forever, I arrived at the other side at the 60 Mile aid station, where other runners were huddled around eating gumbo or soup. It was still extremely windy and I think this had a demoralizing effect on everyone around. I put my long sleeve FSU shirt that I was wearing before the race back on just to warm myself up over the next 3 miles. When I got to Mile 63, it was around midnight so I broke out my secret weapon. I had fasted from caffeine for a month and half prior to this race, just for this moment. I drank a Starbucks Double Shot drink and it was instant energy. Really helped pick me up and make me alert. Fasting was horrible, as I am a coffee junkie and former coffee shop barista.
When you get to Bahia Honda, its pretty much just bridges and then the park on the both sides of the road. I was all alone for most of this stretch and just alternated between running a mile and then walking some, just making myself press forward through the night. It went like this until I made it just past Mile 72 and onto Big Pine Key, which by the way is crawling with these miniature deer that will come right up to you. With less than a 50K to go, I could sense this was the make or break part of the race. It was comforting knowing that I had ran the remaining distance several times this year and on far more difficult terrain. I did the math in my head and figured I was on pace to finish with some time to spare at my current pace. Not leaving anything to chance, I began to pick it up and run for 2 miles at a time before walking for short breaks. Around 3AM I drank a NoDoze energy shot, which like the Doubleshot, worked instantly. At no point of this race was I sleepy and I never closed my eyes. At Mile 26 with just a marathon left to go, I ran across the bridge and onto Summerland Key.
Mile 25 was a site for sore eyes, I was the only runner coming or going but the crew was still very supportive and vocal as I checked in. They were cooking grilled cheese sandwiches, which I always famously tout as the only reason I finished my 50 Mile Race, so eating one at that point made me feel like a million bucks. I was an hour and a half ahead of the cutoff according to the time keeper there, so I knew if I could keep moving there was no reason to worry. I really had gotten my second wind during this 10 mile stretch from 70 to 80, some of my best miles of the race were during this time frame. Once I passed Mile 80, the sun was rising and I shed my long sleeve shirt and night gear. The air was still cool but with a cloudless day on the forecast, we all knew what was about to happen. I think right around Mile 85 is where the Keys 100 finally lived up to its reputation as one of the hottest ultras in the country. There was no shade at all, and I felt like a hot slimy mess from the constant layers of sunblock that were going on. I refilled my ice bandana at every stop. Amazingly, I still was maintaining my strategy of actually running full miles, sometimes more if the meetup points with my wife were in sight.
Mile 90 was at a gas station and everyone there was again very supportive and had ice and additional cold bandanas for me. I didn't stop for long, thinking I could just press on like I had been doing up to that point. Unfortunately, this is where the race became a true grind for me. The next 5 miles were through a town, you are just running on the side of a hot road with no shade as cars fly by. It seems stifling and no breeze gets to you and you don't see much of the water until you get to the Boca Chica bridge. When you arrive at the other side, you are 5 miles from the end and have to go through a crowded business filled island called Stock Island for two miles. Finally, you come to the end of the road and are officially on key West. When you turn left you are a little less than 4 miles away. It is here that the wheels fell off for me.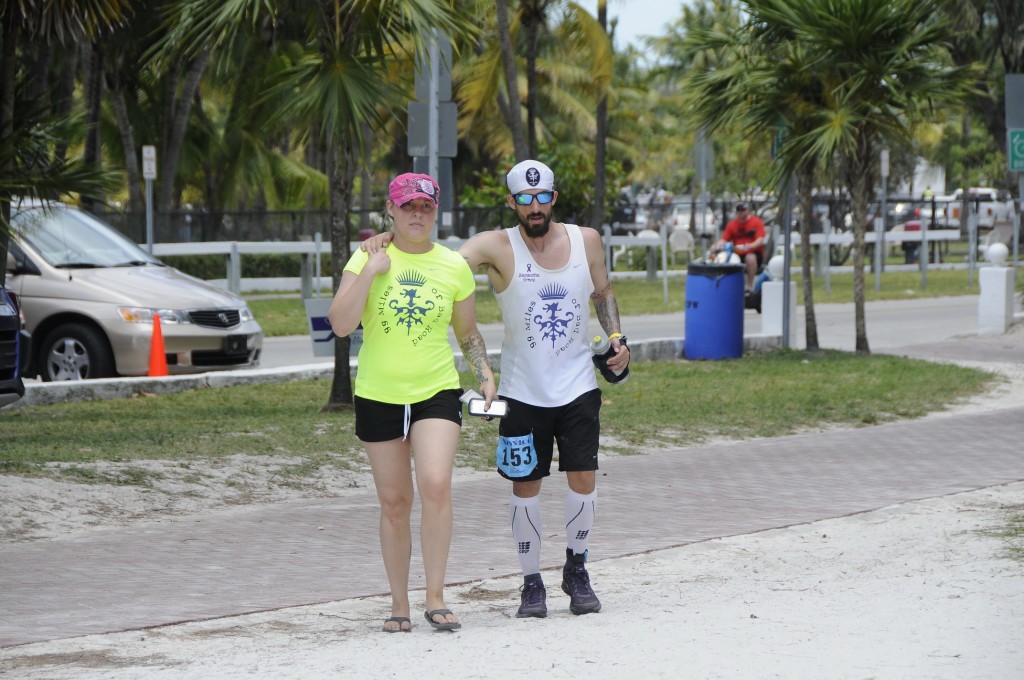 It is important to remember what an uphill battle I faced going into this race, as I had never gone over 50 and even the time I went 50 it was a disaster. So for me for have ran all day and all night and gotten to Mile 96 as steadily as I had, this was a huge accomplishment and by doing so at my pace, it ensured that when I finally broke down, I was so close to the finish line that it didn't matter. It would have been nice to finish under 30 hours, but at this point it was just about getting to that finish line. I walked the entire rest of the race, just totally spent with nothing left to give. I would assume anyone who has ever attempted to venture into the territory of ultra running will know what I am describing. That feeling of coming so far, yet the tiny remaining distance feels like an eternity across a desert. This is where the mental aspect of running comes into play, the indomitable will of a warrior who although wounded, presses on. I'm a junkyard dog who has been through a personal living hell over the last year of my life, so I wasn't going down with only 4 miles to go.
I trudged down the sidewalk that hugs the water and curved around the north end of Key West past the airport. When I saw my wife at the airport I told her to park the car at the end of the road and walk the last mile with me. By the time I made it to where she was waiting, I was stumbling like an animated corpse. I put my right arm around her shoulder and we walked the busy last mile through the neighborhoods of Key West, people screaming and cheering as they passed us on the street. Finally, we saw the finish line. It was an emotional experience walking those last 50 meters up the chute. We had both come so far as people, as a couple, and to finally be here it was a great sense of accomplishment. We had done it. The Keys were conquered.
– Chris "Nole'Core" Caravello
…And At The Battles End, She Is Great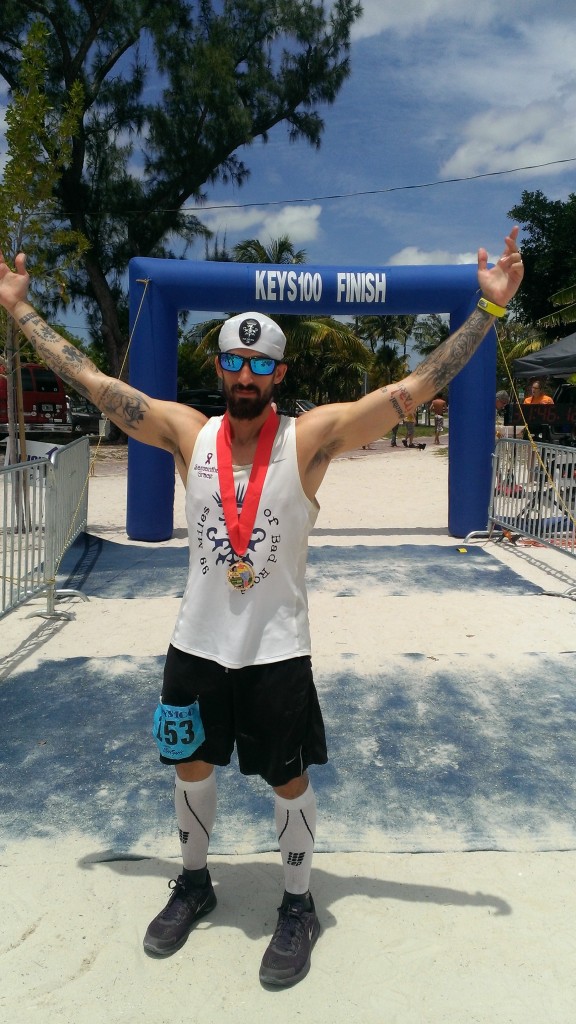 The Keys 100 | Running the Keys | Crewing the Keys | Gear | Nutrition | Doing A Fundraiser